An Investigation of Sangam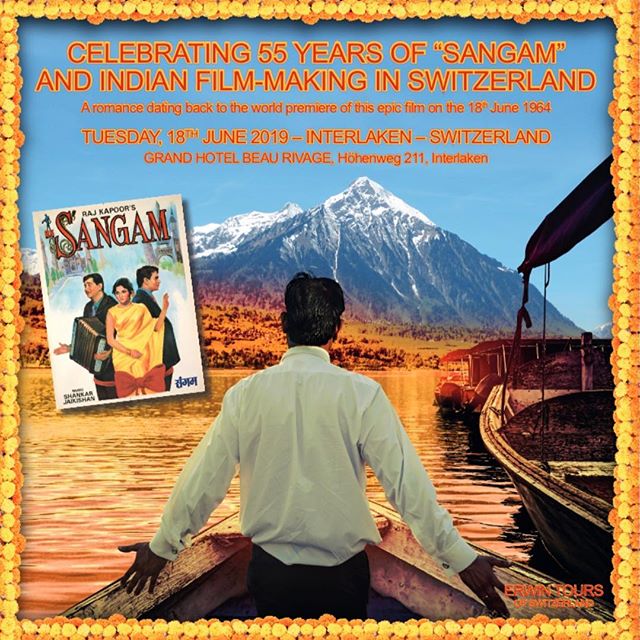 The first Bollywood movie to be filmed in Switzerland was actually the result of a war. Before the Indo-Pakistani conflict, filmmakers often shot mountain scenes in the Kashmir mountains. When the Partition of India and Pakistan and further conflict made the Kashmir region unstable though, filmmakers like Raj Kapoor had to find a different location to fill the role of the majestic Himalayas. So, for his 1964 film, Sangam, Raj Kapoor chose to film in the Swiss Alps. Beyond standing in for the Himalayan mountains in Kashmir, the Swiss Alpine region was featured as the main couple honeymooned through Europe. Between snow-covered mountains, lush greenery, quaint cities, and a gorgeous waterfall, the scenery in Switzerland created a romantic backdrop on which the couple could celebrate their marriage.
To commemorate the 55th Anniversary of the release of Sangam, the first Bollywood movie to be filmed in Switzerland, Erwin Fässler organized a film showing and discussion event. Researchers Dr. Metka Hercog and Roma Venkateswaran, attended this event to examine the connections between this Bollywood film and Swiss culture.
Celebrating 55 Years of Sangam and Indian Film-Making in Switzerland
Erwin Fässler is the CEO of Erwin Tours of Switzerland. He is a tour guide who conducts various private and group tours of Switzerland. His services include a range of Bollywood tours to see the Swiss locations in which famous Bollywood movies were filmed. He has also assisted with location scouting and management for film crews in Switzerland. He was the mastermind behind "Celebrating 55 Years of Sangam and Indian Film-Making in Switzerland."
The event took place at the Grand Hotel Beau Rivage in Interlaken, one of the filming locations for Sangam, on June 18, 2019, exactly 55 years after the film was released. The film celebration began with an Indian lunch during which attendees could mingle and discuss their relationship to Bollywood. Attendees included other tour guides that were involved in Indian tourism and academics who were interested in Bollywood and Indian tourism. Bollywood Passion, the Swiss branch of the Shah Rukh Khan fan club, also helped support the event. After lunch, there was a screening of the film Sangam. It was many of the audience members' first time seeing the movie that is credited for starting a decades-long relationship between Bollywood and Switzerland.
After the screening of the movie, Interlaken Tourism presented, a representative from the Indian embassy led the audience in a yoga break, Indian dancers performed beautiful dances, and Abhay Jaipuria, an Indian tour company owner, spoke. There was an effort to get a Bollywood actor and the Indian Ambassador to Switzerland to speak, but unfortunately, circumstances did not allow them to attend.
Sangam of Bollywood and Swiss Tourism
Everybody who attended and spoke at the event confidently cited Bollywood movies, starting with Sangam, as responsible for increasing Indian tourism in Switzerland. Other influential movies cited during the event included Chandni and Dilwale Dulhania Le Jayenge. "Sangam" means "confluence," and many understand the movie as the beginning of the confluence, or merging, of Bollywood and Switzerland. However, there was also concern expressed by attendees and speakers that Bollywood was not filming as much in Switzerland anymore. While Indian tourism to Switzerland continues to increase, there were calls for Switzerland as a country to do more to attract Indian filmmakers.
No matter the future of Bollywood in Switzerland, it seems to be taken as fact that Bollywood filming has increased Indian tourism to the country. What is less documented are the other effects of filming in Switzerland: Who works on the films while they are in Switzerland? What are the economic ties between Bollywood and the Swiss economy? What are the diplomatic and cultural repercussions of filming and tourism? That is what FilmInd seeks to find out. There is a clear confluence of European and Indian cultures happening in Bollywood films, and FilmInd strives to thoroughly investigate this sangam.
Blog post by Roma Venkateswaran and Metka Hercog, Published in July 2019